Bathrooms are underrated. With every day that passes, we spend a lot of time in our day inside the bathroom.
While you may think you're only there to take a bath and prepare for the day, the bathroom isn't just that. Over your day, where else do you take care of yourself?
With the bathroom being one of the places where you can be truly alone and spend a lot of "me" time, it's vital not just to make sure that you're comfortable inside but safe as well.
When designing bathrooms, most people consider aesthetics and the features they want to add. But, more often than not, the most overlooked factor when people design bathrooms is safety.
With so much time you spend in your bathroom, it's very crucial to make it safe, or you risk getting injured while enjoying your "me" time.
To help you, we share these ways to improve bathroom safety.
Install grab bars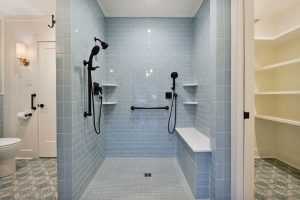 When your foot is slipping down the bathroom floor, you'd be very lucky to find something to hold onto if your bathroom doesn't have grab doors.
Grab doors are great because they can save you from breaking a bone or falling on your head, but not only that, you can also use them to support you when you're trying to reach for something.
It's a must-have, especially when you have elderly people living with you, as they are at risk of getting injured in the bathroom, as their reflexes and strength might fail them in case they slip.
Monitor and control the water temperature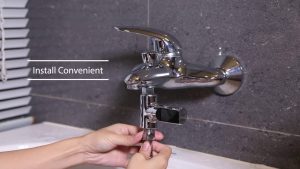 Imagine taking a bath, and when you open the shower, hot water rains down on you, which can lead to burns and injuries. It's dangerous, especially for children and the elderly.
To avoid the water temperature from being too hot, make sure to set your water heater's thermostat to a value below 120°F. Click here to read more.
The floor doesn't have to be that slippery
It's not a secret that the bathroom is full of water, which is why you need to make sure that your floor isn't slippery.
One of the first things you need to do to ensure this is not to use glossy tiles, which are already slippery when dry, but even more slippery when wet. Also, we recommend smaller tiles for more grout lines, which increase traction.
You may also consider stone or ceramic floor tiles that have grit added onto it, which provides better grip and safety.
Also, it doesn't end inside the bathroom, as you can also slip when going outside with your feet wet, so make sure to have a rug with a slip-resistant surface below right outside your bathroom.
Don't use sharp fixtures.
Even with a grippy floor, you can never be sure when freak accidents might happen. But, in case you happen to fall down your bathroom, you don't want a sharp object meeting you as you fall.
So, to make sure this doesn't happen, consider using fixtures with rounded corners.
Keep everything within reach
When you go to the bathroom, there are some things that you use all the time.
Take note of these things and make sure to keep them within reach while you're in the bathroom, so you don't have to walk around, which can increase the risk of accidents. Designing your bathroom this way also makes it more convenient to use, so it's a win-win.
Provide step tools
If you have kids at home, you know that they are always curious and explorative. So, if they see something interesting in the bathroom, they might try unorthodox and dangerous ways to reach them.
To help them with their curiosity and make sure that they are safe when trying to reach things, consider providing sturdy and grippy step tools.
Take a seat
Another trend starting in bathroom design is the addition of shower or bath seats, which can be useful, especially when you have old persons living with you, so they don't have to stand up all the time and risk slipping on the floor.
Not only is it safer, but there are also many modern and stylish designs to choose from, so the chair won't just be functional but also great for aesthetics.
It's also more relaxing to use a chair, especially when you're the type of person who spends a lot of time in the bathroom.
Install a better toilet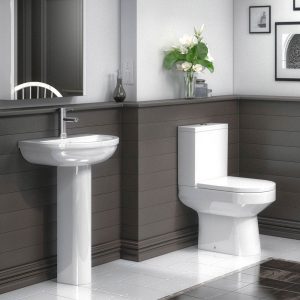 Toilets seem harmless, but they are often involved in most bathroom-related injuries. It's because most people use ones designed too low, making them strain their joints and back whenever they need to use them.
To avoid this type of injury, it's the wisest option to get a raised toilet seat. If you can, you can even add safety rails on the side for better stability and safety.
You also should install safe bidets for pregnant women and the elderly.
Improve your lighting
It's also very important to provide sufficient lighting inside the bathroom. In such a slippery and small place, you need enough light to guide you, especially at night.
Furthermore, it also makes it easier to repair bathroom-related problems when you don't have to wander in the dark.
If you like mood lighting, there's no problem with that. But, you're playing with fire when you only have mood lighting, as there are situations where it might not be enough. To make your bathroom safer, make sure to install bright lighting.
Further Watching:
Read More:
Making Better Bathrooms: What Is The Right Shower Head Height?
3 Types Of Light Switch Wiring | How To Make The Right Connection
Make your bathroom a safe space
Your bathroom plays a significant part in your daily life. Make sure to have a reliable bathroom renovations company taking care of your bathroom,  so you can be safe inside it.