Working with an experienced architect and construction management company allows you to review and determine all aspects of your house thoroughly. While working with the experts, you can choose the material interior and exterior finishes, construction sites, and more. Here are four custom architectural design features you can consider for your home:
1. Custom Woodwork
Investing in fine woodwork is a great way to customize your home if you work with expert designers and contractors. Custom woodwork is conspicuous wherever you install it and can be an extremely captivating addition to your home. Interior designers can help you to leverage the distinct appeal and value of custom-made woodwork without overstretching your budget.
You can even choose a simple, painted bookshelf for your lounging or reading room. Custom woodwork on your door and window frames and rails can add personality and aesthetics to your space.
Investing in custom woodwork is a sure way to grab the attention of your visitors and increase the value of your home. You can find various spaces and ways to incorporate custom-made woodwork, including on ceiling beams.
2. Oversized Door and Window Casing Trims
The human eye naturally gravitates upward and outside. Designers looking to increase home value target the ceilings, beams, windows, and doors to enhance those integral features of a home. If you are debating over custom architectural design features, improving the key areas of your home will draw the most people.
An oversized door and window casing trim is one way to make an impression. Large windows and doors with oversized trims are prominent and give you more room for customization.
You can increase the width and height of the openings and determine the perfect design for your home. Casing trims come in various custom designs and can accommodate more decorative elements based on your preferences. This is a great way to allow flexibility in your interior design goals.
3. Deeper Basement and Higher Ceilings
If you are building a new house, you may want to consider making the poured basement slightly deeper. Even one foot extra is enough to make the space feel bigger and more inviting.
Extra basement space increases customization and interior decoration options. Existing homeowners can consider internal design modifications to improve basement functionality and open up the room. This could even include designs for a new faux fireplace, ship lapping the walls, installing a projector screen, or making space for extra seating.
Installing higher ceilings is another way to open your living space. Adding two feet to the ceiling can make a big difference in how spacious and luxurious your home appears. Taller ceilings allow you to embed your personality into the lighting, wall art, and other finishing fixtures.
Make sure your designer understands these needs in the first introductory meeting. That way, you can be sure you are on the same page from the get-go.
4. Mudroom and Upstairs Laundry Room
When building your new home, you can decide whether you would like to include a mudroom where you can take off muddy shoes and wet outdoor gear. A mudroom does not have to be extravagant, but you can make it both functional and efficient.
Even a tiny close-sized space with a bench and lighting can be handy, especially on a snowy day. Make sure you have enough hangings for your gear so that you can keep your space organized and things easy to find.
Building a new home allows you to include a laundry room upstairs, which can reduce the chore of completing laundry. Instead of making endless trips up and down the stairs, you can conveniently do your everyday laundry upstairs all in one area. You can add a big window to let in light, improve the appeal, and bring more joy to your laundry day.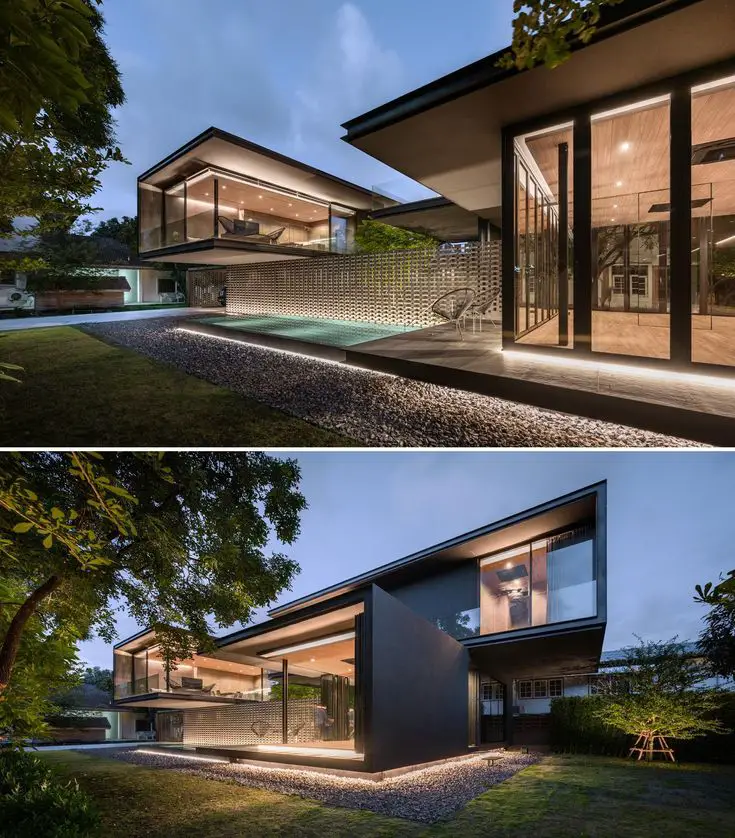 Other Custom Architectural Design Features
Homeowners have endless choices when working with reputable construction management firms. Whether you need custom cabinets and closets with elegant lighting, or upgraded heated floors and driveways, modern designers can cover it.
You can integrate a central vacuum system, smart devices, built-in sprinkler systems, sliding glass space dividers and showers, and more. The best designers and contractors will probably pull it off if you envision it.
Working with Top Construction Management Firms
Custom builds can deliver everything you desire in your home, but only if you choose reliable construction firms. Whether you want an expanded garage or extra outlets, you need experienced designers, contractors, architects, and engineers. The best construction companies feature all experts in one house under a DB, or design-build, approach.
Choosing leading firms will help you to get the best for your home. The goal is to envision how you want the house to look and everything needed before construction begins. Modern construction firms can design custom architectural features to create a unique home for you.
Further Watching: