If you're about to decorate the interior of your home, you should first have a style you love in mind. This is important because your home reflects you, so making it friendly and keeping it within your tastes will allow you to live there in harmony.
Confused as to which style to adopt? Worry not, in the realm of interior design there are many already established styles and trends. Just browse Pinterest, Instagram or home decor magazines, and you're sure to find something that perfectly appeals to you. And if you're on the adventurous side and want to experiment, that little something might be eclectic decor.
What Is Eclectic Decor?
The eclectic decor is a style that is highly personalised and that is constantly evolving. It combines different styles to produce a classy but individual appearance.
While this may sound bohemian, there is a significant difference between the two. Bohemian style disregards all design guidelines in favour of personal preference. Eclectic design, on the other hand, follows design principles while allowing room for some exceptions. It's based on characteristics like balance, rhythm, proportion, and scale.
Achieving the eclectic style generally includes:
Playing with combinations of different graphic elements -Prints, patterns, and textures set the stage for this style. The eclectic design blends design components that aren't used together in most situations. This gives the space depth and a unique kind of of appeal.
Combining elements from different eras -Modern or traditional? If you can't make up your mind, eclectic design is the perfect blend of the two. In this style, you can combine vintage furniture with contemporary art. You can also decorate a colourful and funky mid-century modern room with elegant elements of the French Renaissance such as statues or vases.
Carefully curation – Even though arranging an eclectic space might seem like it doesn't need much forethought, you must carefully weigh your decisions to make sure that everything blends in. In these spaces, it's common to see a unifying element or theme, like a certain colour, texture, or focal point.
To avoid making your interior an eyesore, here are a few design rules to bear in mind when you curate your collection of home furniture and accessories.
Mix and Match Your Furniture Pieces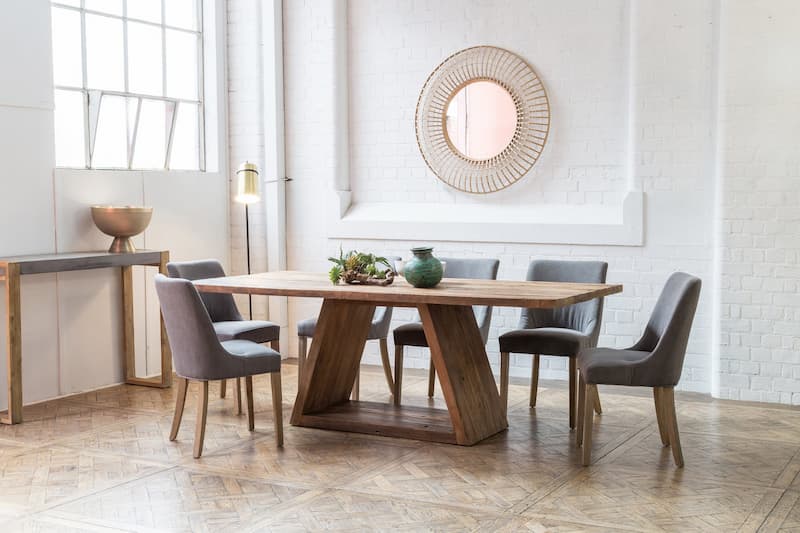 Mismatched furniture is a prominent feature of eclectic interior design. But this doesn't mean clumsily putting together a jumble of styles and colours – this's not the point of being eclectic. The idea is to connect the many elements by linking them through colour and texture.
For example, you can create harmony in a crowded environment by sticking to a core colour palette when shopping for your home furniture. Bold and colourful hues are preferred over neutral tones in eclectic home design. After all, the purpose is not to be subdued. Cream-coloured couches and brown leather recliners are being replaced with vibrant monochrome sofas and rockers.
Similarly, decorative elements such as coffee tables, end tables, and lamps that aren't generally supposed to grab attention stand out in eclectic rooms through a brilliant blend of materials. Combining textures is suggested in eclectic design, like contrasting woods and metals to add mystery to a place.
The living room isn't the only place where you can play with the style. Find a distinctive headboard and a contrasting nightstand to create an eccentric bedroom. Furthermore, mixing and matching chairs at the dining room table is a simple approach to display your creative flair.
Keep in mind that eclectic spaces are ideal for displaying wonderful furniture finds and one-of-a-kind handcrafted pieces. Follow your instincts and you will undoubtedly create a tastefully designed area. This may take time, though. These kinds of furniture pieces usually tell the story of a vacation somewhere or a modest little business that you discovered nearly by accident.
A excellent resource for finding unusual furniture is the internet. Online, you may explore almost every retailer and furniture manufacturer with a few mouse clicks. It's true that you can't physically inspect an item before you buy it online. Nevertheless, you can do more thorough research from the convenience of your home, including reading reviews and searching for the precise product you need, filtered by price range. When seeking out the proper furniture pieces, be patient and flexible.
Choose Your Colours
Instead of going overboard with colours, think about your main colour palette first. This is what will lead you in establishing a harmonic atmosphere rather than a chaotic one. That said, start with a neutral palette and an accent colour. You may add to that fundamental palette as you increase your interior inventory.
When it comes to the walls, keep them basic because they will serve as a background for your carefully designed decor. Dark hues heighten interior curiosity, while milder tones offer a tranquil canvas, and unpainted brick or plaster gives tactile interest. Consider the quantity of natural light in the space before deciding on a colour scheme.
Play with Pattern
To calmly blend multiple design eras into a space, use patterned carpets and scatter some throw pillows. When mixed with other patterns, geometric shapes, fleur-de-lis, and even polka dots, for instance, these can add visual interest. The area will be brightened with the appearance of seemingly incongruous patterns, bringing surprise and excitement while keeping a fun atmosphere.
Using a beautiful wallpaper that has the same pattern but comes in two distinct colours is a common method for individuals with an instinctual flair for DIY. This approach produces a stunning and eye-catching appearance that adds funkiness and flavour to any space. 
Show Off Your Private Collection
Too many of us keep our records, books, old clothing, and other mementoes in boxes in the attic, on top of the wardrobe, or beneath the bed. The minimalist purging and decluttering that has afflicted modern decorating schemes has sent many a personal collection to the murky recesses of our home.
The eclectic approach is quite the opposite. It honours records, comics, stamps, toy cars, fridge magnets, collectable crockery, beer bottles and all other personal artefacts that have helped shape who we are as people. Whether you've spent years creating a collection or whether you like hobbies like fly fishing or collecting butterflies, do feel free to show it off!
A dresser brimming with unique ceramics, a bookcase brimming with antique books, and a vinyl rack brimming with treasures lend character and a bit of quirky flavour to any home. You may carefully place some framed old t-shirts, concert tickets, seashells, trophies and other paraphernalia around the space like a treasure map pointing to the wonder that is you! It also looks great to hang dishes from the wall along with art prints to build an abstract art gallery wall.